Un análisis exegético de Flp 4 (1) 2-3; Flp 4, 4-7
Leonardo Miguel Barraza Aranda
Resumo
Este estudio de Flp 4,1; 4,2-3; 4,4-7 aborda cuatro importantes aspectos. Primero, confirma desde el punto de vista sintáctico, retórico y literario la función conclusiva de Flp 4,1. Segundo, analiza la función retórica que el binomio στέφανος / χαρά, desempeña dentro de los objetivos didácticos paulinos: situar la mentalidad de los filipenses en una perspectiva escatológica. Tercero, el estudio de la exhortación para la armonía comunitaria y la referencia al "Libro de la Vida" presente en Flp 4,2-3, corrobora la importancia que Pablo le asigna a esta perspectiva: el discípulo de Cristo debe alcanzar la meta de la vida eterna. Finalmente el análisis exegético de Flp 4,4-7, permitió constatar la inspiración temática y doctrinal de Pablo: su experiencia vivencial, el Salmo 34 (33) e Isaías 40,13, siempre leídos desde la Septuaginta. En síntesis, estos aspectos revelan la novedosa y admirable διδασκαλία que Pablo impartió a sus discípulos filipenses. /// This study of Phil 4:1; 4:2-3; 4:4-7 deals with four important aspects. First, it confirms from the syntactic, rhetorical and literary point of view the conclusive function of Phil 4:1. Second, it analyzes the rhetorical function that the binomial στέφανος / χαρά plays within the Pauline didactic objectives: to place the mentality of the Philippians in an eschatological perspective. Thirdly, the study of the exhortation for community harmony and the reference to the "Book of Life" present in Phil 4:2-3 corroborates the importance that Paul assigns to this perspective: the disciple of Christ must reach the goal of eternal life. Finally, the exegetical analysis of Phil 4:4-7 helps to verify Paul's thematic and doctrinal inspiration: his life experience, Psalm 34 (33) and Isaiah 40:13, always read from the Septuagint. In sum, these aspects reveal the new and admirable διδασκαλία that Paul imparted to his Philippian disciples.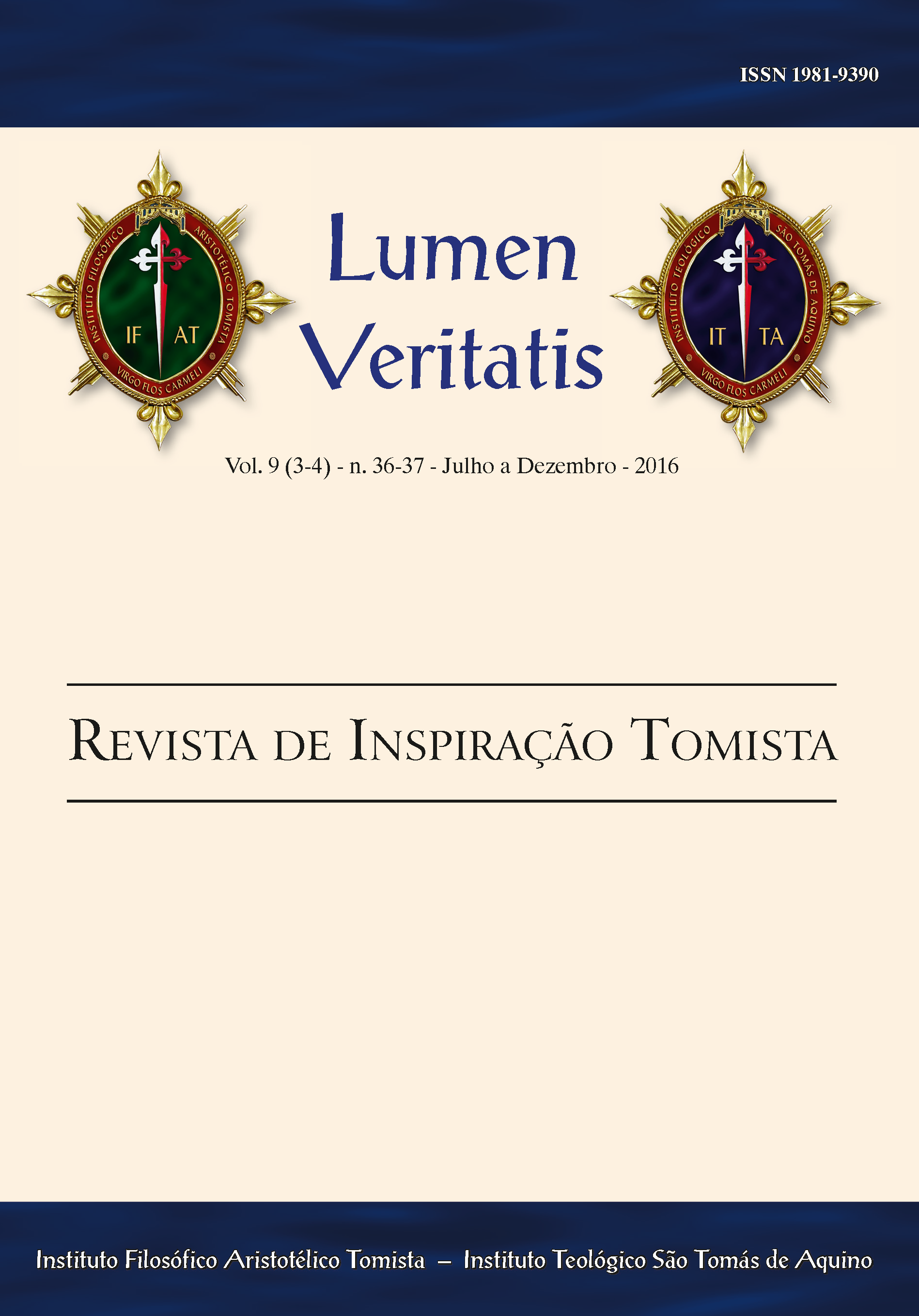 Como Citar
BARRAZA ARANDA, Leonardo Miguel. Un análisis exegético de Flp 4 (1) 2-3; Flp 4, 4-7.
Lumen Veritatis - Revista tomista | Filosofia Teologia - Tomás de Aquino
, [S.l.], v. 9, n. 36-37, p. 259-312, out. 2017. ISSN 1981-9390. Disponível em: <
https://lumenveritatis.org/ojs/index.php/lv/article/view/402
>. Acesso em: 17 fev. 2018.