L'intention apologétique de Maurice Blondel
Resumo
L'auteur étudie la proposition philosophique de Maurice Blondel à propos du sens de la vie en opposition à celle d'Emmanuel Kant. Le problème de la non-croyance et de la mentalité positiviste portant l'homme à ne croire qu'à ce qu'il peut calculer ou mesurer est mis en contraste avec la possibilité de l'existence du surnaturel dans la vie de l'homme. La notion du surnaturelle comme quelque chose d'impossible, mais s'avérant toutefois absolument nécessaire et indispensable à l'homme. En partant de l'expérience générale de la vie, la catégorie de l'action y est introduite comme un déterminisme qui réunit plus de choses et d'éléments dans la vie de l'homme que la science et la raison. L'action de l'homme est présentée telle une expression de la vie humaine constamment secouée entre l'inquiétude religieuse et son désir illimité. Le sens de la vie ne se trouve pas dans l'action de l'homme, mais nous croyons que l'action est une forme de connaissance qui peut contribuer à sa découverte. Y a-t-il au-delà de l'ordre humain un ordre transcendant? L'homme peut-il vivre sans la possibilité du surnaturel? Dans ce contexte, le dialogue entre la foi et la raison dans le cadre de l'étude du sens de la vie de l'homme possède un rôle indispensable. /// The author studies the philosophical proposal of Maurice Blondel with regards to the meaning of life in opposition to that of Emmanuel Kant. The problem of unbelief and of the positivistic mentality bringing man to only believing that which he can calculate or measure is put into contrast with the possibility of the existence of the supernatural dimension in man's life. This supernatural notion, which appears to be impossible to man, is absolutely necessary and indispensable to him. Beginning from the general experience of life, the category of the action of man is introduced as a contingency of his life that unites more things and elements in his existence than science and reason. The action of man is presented as an expression of his life constantly shaken between his religious inquietude and his infinite desires. The meaning of life does not find itself in the action of man, but we believe that his action is a form of knowledge that can help him find it. Is there something beyond the human order that we can call a transcendental order? Can man live without the possibility of the supernatural dimension? It is in this context that the dialogue between faith and reason, under the prism of the study of the meaning of life, has an indispensable role.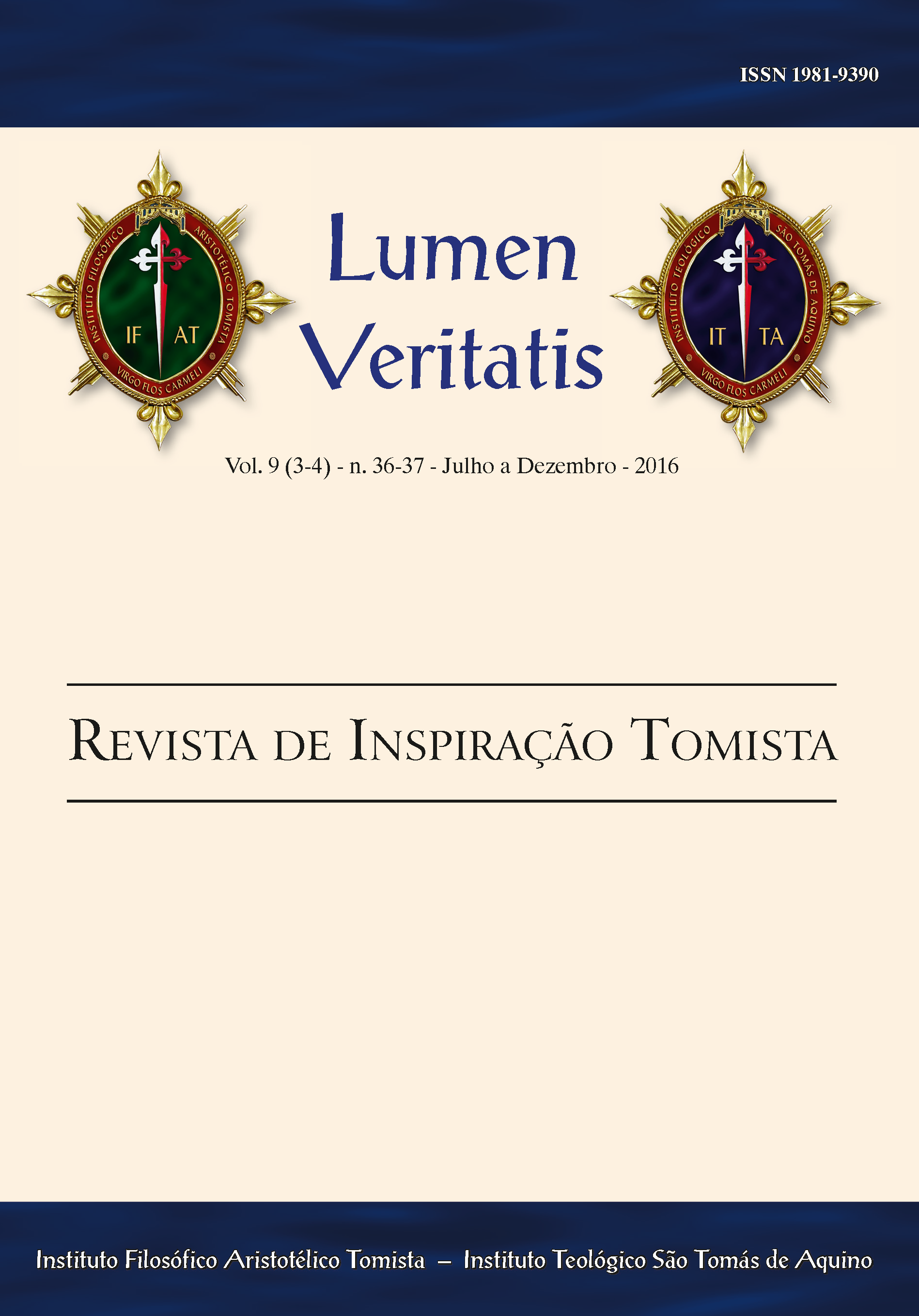 Como Citar
BANDET, François . L'intention apologétique de Maurice Blondel.
Lumen Veritatis - Revista tomista | Filosofia Teologia - Tomás de Aquino
, [S.l.], v. 9, n. 36-37, p. 425-455, out. 2017. ISSN 1981-9390. Disponível em: <
https://lumenveritatis.org/ojs/index.php/lv/article/view/394
>. Acesso em: 17 fev. 2018.